Your Color Vibe
How to align your color personality and energy to reveal your best colors
Right now you may be feeling utterly overwhelmed and confused by all the color advice out there. In one system you're a Spring, in another you're a Winter and in another you're a Light Summer. What the heck is going on?
Is color really this confusing?
Only if your brain gets involved. 😂
After 20 years of working with personal coloring, I'm still surprised by the color boxes "experts" create. 
You are NOT a one-color-box trick pony!
There are two reasons why these approaches don't work:
Your coloring and preferences are intertwined. As we age, we lose collagen and pigment…meaning our own coloring and preferences change. I've seen this happen time and time again and I can assure you, having one group of colors is not helpful.
Most importantly,
Your best colors are always indicative of your personality and subjective tastes…not your hair, skin, and eye colors. 
Wow, right?
I mean, yes, it's good to create harmony with your physical coloring but that just means the color is wearing you.
In order for you to stand out, and for your authentic self to be seen, you must wear the colors that align with your personality first, your subjective preferences, second, and your physical color harmonies LAST.
Ready to color outside of the lines??
I've put together a guide and 12-lesson course that helps you move from feeling frustrated and confused with color to feeling confident and excited about the colors that align with your unique energy.
To do that, we'll solve the 3 most significant problems that most mystically-minded women face with all the color advice out there:
Misalignment with who you are

Lacking confidence in what colors to use

Feeling confused, stressed, and overwhelmed
The first problem we address is the misalignment you're having with the wrong colors being "pulled" for you. There is a reason you feel misunderstood with these colors because although some may work, not all do. And it feels yucky. So instead of trying another color system, we focus on creating an alignment between you and the energy of color. This is a key principle of my work and we do that by:
Taking a look at your favorite colors and subjective preferences. This information shares a lot about you and provides many keys to the right energetic colors for you.
The second problem we address is the lack of confidence you have in what colors to use. I mean, can you wear black?? What about bright red…people may say you look great in it but you think otherwise! I have discovered in my work that most women lack confidence in using color because they feel like they should know more about color or have a Ph.D. in Color Science. We'll take away the mystery by: 
Showing you how the secrets to your best colors are within you. We'll show you pictures of people, (some famous creatives, some not) where color personality is the basis for creating the right palette.
Lastly, we'll banish that overwhelm you may be feeling by providing some key secrets and tips to understanding and using your color personality. You'll discover…
Why it's best to go by your dominant and supporting color personalities, not a group of predetermined colors. And you'll see how using your dominant and supporting personalities can create ease and flow in your life and wardrobe.  
The end result? You'll…
Gain full clarity about how color works with your unique energy.
Gain confidence and fall in love with color …and with what you see in the mirror.
And most importantly, feel authentically seen where everything about you reflects your true colors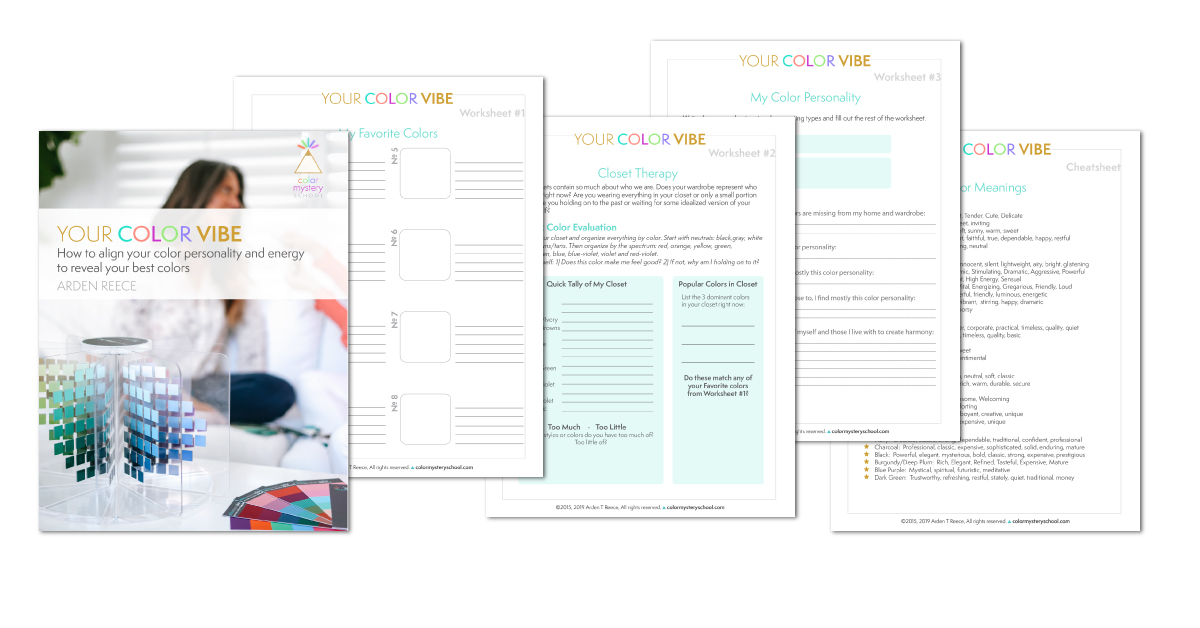 What You'll Discover
In the guide and course, you'll discover:
What aspects of your personality and physical presence convey your Color Personality
Without getting too "science-y", how color is created…and how mixing paints is only one method to do so.
The meanings behind each of the 5 main color personalities.
Why you're not just a one-trick-chroma-pony.
What your least favorite color means
The chroma aligned with your Color Personality and what it means
How to integrate your Main & Supporting types so that you can be seen for who you are
The secret to finding your colors in stores
A list of neutrals and colors for each personality
How using your dominant and supporting personalities can help you in your life and wardrobe.
 If you want to look and feel confident and easily discover & select your best colors, then join me in this on-demand course.
What it Includes
14 lessons covering understanding your Color Connections, the 5 Color Personalities, and creating Your Authentic Color Vibe
40-page full-color pdf guide 
3 worksheets and a cheatsheet
About Your Guide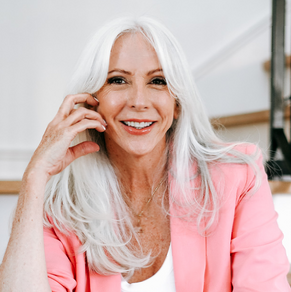 Arden Reece is a worldwide color consultant & practitioner that has been at the forefront of the personal color industry for 2 decades. She is the color and soul guide for the new wave of conscious, heart-centered individuals & businesses. She now shares her unique methods exclusively with those who choose to create meaningful transformations in their lives.
She's the perfect guide to help you navigate the simple yet profound world of color. Her studies & research on personal coloring (including intensive interdisciplinary color training with the highly regarded International Association of Color Consultants / Designers) allow her to playfully show you the many ways you can use color to illuminate your authentic, radiant self and enhance every aspect of your life.